Well, it's December, and you know what that means.
Like many of you, some of my favorite Christmas memories are of watching the holiday movies and TV specials. I remember those more than the presents I got; I haven't yet figured out if that's a good thing or not.
So, you all get to listen to me blather on about some of them. Because that's what I do.
A Garfield Christmas Special
This special premiered in 1987, but I first saw it in the early 90s, a time when things at my house were beginning to take a turn for the worse. My mom was going crazy and my parents' marriage was starting to fall apart. So I have mixed feelings about this special. I think this was the first time I felt cynical about Christmas-- even though I was only about 10 or 11 years old.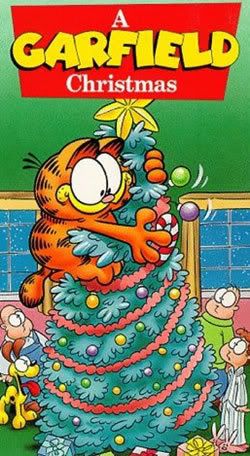 Honestly, it's pretty cute, but it's not the end-all be-all of Christmas specials. The best part about it is definitely Jon's grandma. She totally steals the show. Maybe this is just the bad memories talking, but if you missed out on it as a kid, you probably ought to just skip it. Check out the Thanksgiving special instead-- it's far better, in my opinion.
A Charlie Brown Christmas
Alright, who
hasn't
seen this? Well...my fiance, for one, but we're going to fix that problem very soon.
A Charlie Brown Christmas has long been a yearly tradition on television-- for over 40 years, actually. It used to run on CBS, but nowadays it's on ABC, which to me feels kind of...wrong. But I won't get started on that again.
I actually didn't manage to catch this special until sometime in the early 90s, so it isn't quite as nostalgic for me as some of the others. However, it's still one of my favorites. It's still relevant even today-- well, except for maybe that aluminum Christmas tree thing. What was that all about?
This is one of the few specials still running on network television that's true to the meaning of the holiday. It's refreshing, because most of them are all about family or Santa or whatever. Those stories can be fun, and Christmas may be about family to some extent, but there's way more to it than that. It is called
Christ
mas, you know. Anyway, Linus tells it like it is and I really appreciate that.
Also, the quality holds up pretty well considering that it's a TV special that was made in 1964, which wasn't exactly the golden age of animation.
Finally, the soundtrack is wonderful. I own the album and sometimes listen to it even when it isn't Christmastime. It's not fancy or anything-- just jazz piano, backed by drums and an upright bass, but it's unpretentious and has a lot of heart, which really makes me feel warm and fuzzy. If I had a fireplace, I'd sit by it and drink hot chocolate while listening to this CD.
Rudolph The Red-Nosed Reindeer
I don't like that song, actually. It ranks at the bottom of my Christmas music list, along with I Saw Mommy Kissing Santa Claus and Santa Claus Is Comin' To Town (ironically, also a Rankin-Bass special).
Thankfully, the special is much less irritating.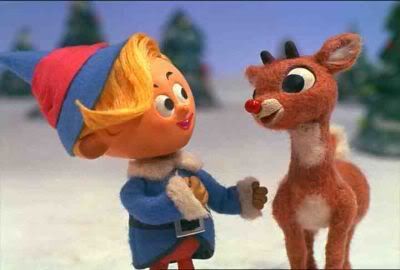 The stop-motion animation looks pretty decent, to be honest (except for all the scratches on the film-- what exactly does "digitally remastered" mean anyway?). They obviously put a lot of time and effort into it. I also think the character models/designs are cute, and it has a good little message about how it's okay to be different.
I'm surprised that this was also made in 1964. I think time has been a little unkind to it, since it seems much older. Much like with the Garfield special, it's cute, but I hesitate to recommend shelling out 14 bucks for the DVD unless you're really nostalgic for it or have kids-- otherwise you might get bored with it. I personally have fonder memories of some of the other Rankin-Bass specials, which I'll probably talk about another time.
I know, I've been a little more negative than usual in this post. I'm not Ebenezer Scrooge or something-- I really enjoy Christmas, and I get a kick out of watching these specials, even the lackluster ones.
So, feel free to leave a comment and share any good memories you might have of these specials-- or other specials, if you haven't seen any of the ones listed here. And I promise the next Christmas-y post will be more positive...if I can get around to making another one before Christmas is over.